Nicki Minaj Goes In On Lil' Kim During Hot 97 Interview, Says Foxy Snitched To Her About Kim Talking Ish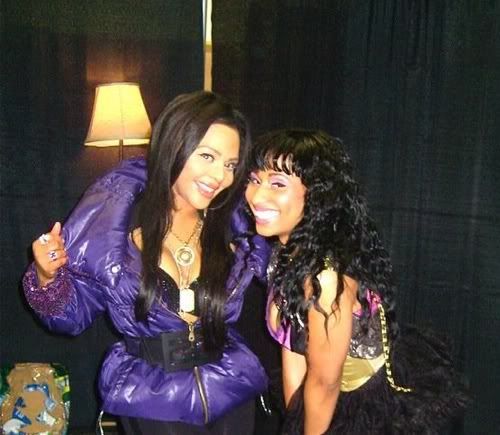 When "Roman's Revenge" dropped, the blogosphere went crazy saying that the song was directed at Lil' Kim. But Nicki never really confessed up to that and said it was about a "few" people. But in yesterday's interview, Nicki took the gloves off and got dirty. Or maybe she put the gloves on and got ready for a fight. You decide.
On Lil' Kim's constant barbs at her:
"She just really jumped out the window (regarding Lil' Kim taking this drama so far). You have to watch who you pick fights with. I think people mistake me for a real Barbie. And they forget where I'm from. And if I have to revert back, I can and I will. Don't play with me."
On paying homage to Lil' Kim:
"I respect you. I love you. I have said it time and time again. And if that's not good enough for you mama… then there's something deep rooted in you…That's your insecurity bothering you. It's not Nicki Minaj. It would have been any girl that started popping."
On why she thinks Lil' Kim is hating:
"You know what scares people? Success. When you don't make moves and you don't climb the ladder everybody loves you because you are not competition. But once you start to make moves…"
On respect in the rap game:
"We all take from each other. Nothing is new under the sun. Why in the black communities do we need to hate on each other? Instead of saying thank you for showing me love….thank you for keeping my name alive. The same way she opened doors for me, I'm opening doors for her. Do you understand what I'm saying? Because nobody was playing your music and you damn sure couldn't get an interview to save your life. But now you getting interviews and every time you do an interview they ask you about Nicki Minaj."
This chick said Kim wasn't getting interviews or getting her music played to save her life until she came along. Fightin' words. Nicki said this whole thing with Kim did hurt her feelings because she was such a fan of hers. She then revealed that it was actually Foxy Brown who pulled her to the side and let her know that Lil' Kim had been saying nasty things about her. Messy!